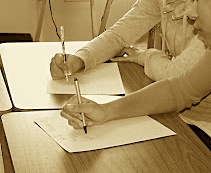 Posted by Susan Ruckdeschel
On 13 July, 2013
4 Comments
Media Literacy and Close Reading: A Common Medium for the Common Core
Media literacy is a combination of new learning theory and highly engaging methods of practical, hands-on application that use 21st century technologies to aid students in culling and using evidence to supports their ideas (Schiebe, 2004).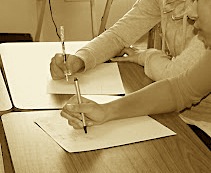 Links to media literacy and student research in state curriculum standards are ever-present (Kubey and Baker, 2000 in: Schiebe, 2004). Beginning with terms such as, "evaluate importance" "reliability" and "credibility of evidence" (New York State), and "comprehend, interpret and critique texts in every medium" (California), it continues into the Common Core Standards with "citing evidence" "textual evidence" "sufficiency of evidence" and "reasons and evidence".  Media literacy as it works into student research is both an implied term, and an overt curriculum mandate.
Through Project Look Sharp (in: Schiebe, 2004), a "curriculum-driven" approach was used to examine and teach media literacy to K-12 teachers in order for them to turnkey it to their students. By looking at the messages and languages used in multimedia, traditional literacy was seen as the basic language through the visual cues, auditory messages and concise text across all media types. These were strong indicators that one basic language could be used to help students develop a core competency across all media types to support their conceptual understanding and overall reading of text.
Here are some media literacy examples:
2nd grade social studies NYS curriculum included teaching about communities. Lessons involved a series of reading of historical pictures and video clips that demonstrated various types of communities. Students responded to questions related to their discussions on the media content.

5th and 6th graders viewed advertising appeals to support a unit on Greek mythology, weaving media literacy into on-going classroom activities throughout the year.

Weekly discussion of current events with video, podcasts and Internet news feeds.

Production of media used to convey information to parents and illustrate a typical school day as an open house activity.

Teaching students how to utilize print and visual elements in media sources to support their ideas. For example, ask them who a person is in a picture or painting displayed in a text, what a subtitle means, or what pictures or captions mean to the passage or story overall message.

Discussing the relevance of who wrote or produced the media and encouraging students to credit the author in their projects.

Chunking out a media curriculum in short segments to facilitate discussion. For instance, show a video and discuss a segment at a time, have students take notes and ask questions before moving on to the next segment.

Discussing the overt and implied messages of each media source and then aid students in linking it to core content.

Use of iPads to drive hybrid instruction, such as responding to discussion forums, researching and problem solving via the Internet and then sharing results in whole class discussion.

Use of Smartboards to demonstrate strategy – writing on demand, locating and using evidence, smart Internet research, ethical use of (and respect for) copyright.


Encouraging students to download or copy images and captions to use in their research or in extended projects by including the captions and citing their sources. Teach and model this process (Project Look Sharp in: Schiebe, 2004).
Close Reading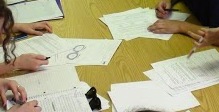 Close reading requires that teachers use texts that are complex enough to be re-read and analyzed.  Close reading examines what an author wants the reader to know.  Reading with a pencil, a form of note-taking, is a close reading strategy that helps students make connections to supporting evidence.  They can also locate and cite information faster when asked to note evidence from the text while reading (Frey & Fisher, 2013). Teaching students how to annotate text is another way to teach close reading and cite evidence. Below are some recommendations for annotating text and teaching note-taking:
Underline the important (key) ideas. Show students how to highlight only 5 to 20 percent of what they read. Explain why it is important not to highlight too much.

Circle words and phrases that they don't understand.

Use question marks to indicate where they have questions.

Use the margins to write down questions they have while reading, and answer them when possible.

Use an exclamation mark to indicate where information is surprising or interesting.

Draw arrows to make connection among ideas.

Use the letters "ex" or write "example" where an author uses an example.

Number ideas, arguments, key ideas and details with specific paraphrased information next to them (

Ljungdahl, L., 2008).
Creative arts activities stimulate student learning, and can inspire them to find evidence to cite when reading.  Teachers who use picture books without words and animated characters to integrate reading, writing, listening, and speaking increase student literacy learning outcomes (Ljungdahl, 2008). The Shape Game by Anthony Brown is one example of a creative text that promotes the use of drawing as a source of inspiration for writing or speaking assignments (Ljungdahl, L. 2008).
The Literacy Threads that Weave
The most effective literacy instruction integrates reading, writing, listening, and speaking skills.  Literate students are independent learners who take control of their own learning.  Teachers can use literacy strategies to help students make decisions about how and what they learn. Integration of technology and media enhances the development of literacy skills, particularly when teachers model strategy (Strickland, 2012).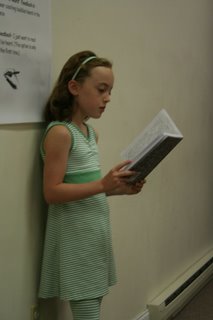 Students who read and discuss complex ideas written on their own grade level build a more powerful content base (Strickland, 2012). Students who engage in problem solving and critical thinking learn how to compare and contrast ideas and to make inferences. This is the stuff that makes reading meaningful, and close reading possible. All of this meaningful "stuff" becomes the juncture at which students comprehend text, are better able to evaluate and synthesize complex ideas, and thus use evidence to support them.  As a result, students learn how to evaluate and make rational decisions based on evidence (Strickland, 2012). 
Close Reading Musts:
Repeated reading of text, and slowing down the reading process to return to the text as needed.

Reading with a pencil and highlighter – a pencil to write and erase ideas such as questions and paraphrases that may change as reading continues, and a highlighter to note important ideas with

Teach students to notate information that is confusing while encouraging them to take responsibility for their own learning

Use short pieces of text to chunk information with
Close Reading Suggestions:
Assign group leaders or student mentors show peers how and where to re-read within the passage.

Have students discuss the text with peers and through teacher conferences.

Create space (and silence) for student to reread in advance of the discussion.

Have students explain their answers in groups or to the class.

When asking follow-up questions, direct students to reread the text in order to find and prove their answers, rather than answering them outright.
Close reading requires a willingness to return to the text more than once. Students need to understand that passage comprehension is a recursive cycle that grows and changes. As educators, we now know that 21st century medium can work flawlessly into the Common Core, if we work it.
Susan Ruckdeschel, MS. Ed. is founder and Executive Director of Literacy Solutions, PD, Inc., an online provider of teacher professional development. This content was borrowed from Courses No. 168 and 190: Instructional Strategies: Citing Evidence for Grades K-5 and Grades 6-8. Literacy Solutions: Professional development that builds teacher capacity.

References:
Grey, N. & Fisher, D. (2013, January). Close reading. Principal Leadership. 57.
Ljungdahl, L. (2008). Strategies to Improve Literacy Standards Using Creative Arts. The International Journal of Learning, 15(5).
Schiebe, C. (2004). A deeper sense of literacy: Curriculum-driven approaches to media literacy in the K-12 classroom. The American Behavioral Scientist, 48(1), 60-68.
Strickland, D. S. (2012). Planning Curriculum to Meet the Common Core State Standards. Princeton, NJ: International Reading Association, Inc.