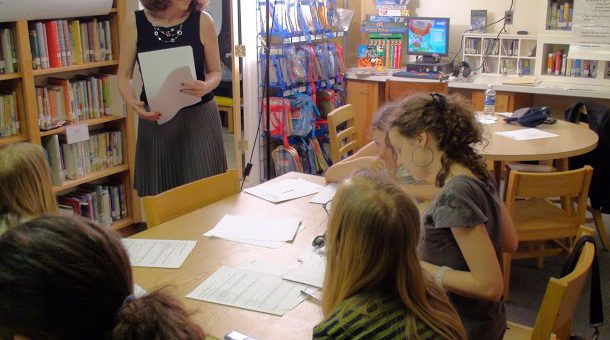 Posted by Susan Ruckdeschel
On 14 March, 2013
2 Comments
common core, common core alignments, common core state standards, literacy solutions, literacy solutions and more, susan ruckdeschel
Out With The Old And In With The New!
Susan Ruckdeschel, MS Ed.
In Who Moved My Cheese? by authors Spencer Johnson and Kenneth Blanchard, characters Hem and Haw each deal with change differently. One of course is successful, the other not as successful.  Aside from a life-changing circumstance they each faced, they had one thing in common:  attitude.  Each of their outcomes rested solely on their attitudes.  With that mindset, let's look at the changes within the Common Core, or the "instructional shifts" with attitudes of interest and flexibility, and I promise that the rest take care of itself.
The National Common Core Standards initiative was the first collaborative undertaking by State Departments of Education and their governors to set forth common expectations as to what students should know and be able to do.  They provide a transparency of not curriculum, but expectations.  Never before have such expectations been so consistent and transparent for all stakeholders: parents, administrators, teachers and students.  They were designed to be robust, and invoke the rigorous teaching and curriculum development that furthers the real world transfer of skills young people need for college and beyond. It is anticipated that our young people will graduate "positioned to compete successfully in the global community" (Common Core State Standards Initiative, 2012).
That said, it's about the foundational education our students receive, placing the onus squarely on us.   Leveling these expectations nationally continues to result in expectations that, depending on what we teach and how long we've taught, might seem overwhelming at first.  But it needn't remain this way.
Forty-five states and the District of Columbia have adopted the Common Core. With these new responsibilities comes a strong focus on literacy across all subject areas: history, social studies, science, and technical subjects, traditionally the responsibility of English/language arts teachers.  Even math standards require that more time be spent on literacy in order to build conceptual understanding and transfer knowledge, in order to problem-solve.
With a greater focus on non-fiction elements in reading and writing across all subject areas, the expectation is that students read and research informational text as much as, or in some cases more than, literature beginning as early as elementary school.  Students are expected to develop these skills at all grade levels, with an emphasis  placed on multiple genres to include essays, memoirs, interest articles, biographies, journals, technical writing, even graphs and charts.
It is no wonder this came about, given that the average child in the United States spends upwards of four hours a day watching television, two hours or more listening to music, and over an hour playing video games (Rideout, 2010).  This doesn't leave much time for reading and writing!  And with a greater emphasis on text complexity and students' ability to mine through complicated text on their own, there needs to be more time made for reading and writing, not less.
What have the studies found?
Since adoption of the Common Core, there have been numerous comparison studies to weigh in on exactly how much work we have yet to do to rise to these expectations and lift our students up at the same time.  While we will explore them as we parcel through these course modules, here are a few:
Reis, Eckert, McCoach, Jacobs & Coyne, 2008 compared an enrichment reading group to a traditional basel focus. They found that the enrichment students received richer instruction due to a focus on thinking skills, self-selection of books, reading conferences and peer-to-peer engagement throughout multiple enrichment tasks: discussion groups, creative writing, and so forth. They concluded that "structured silent reading of self-selected challenging books, accompanied by supported, individualized reading instruction" was most promising in increasing reading fluency (p. 312).
Students who can navigate complex text and answer related questions are likely to earn a C or better in an introductory-level college course in history or psychology (National Governors Association Center for Best Practices and the Council of Chief State School Officers, 2010).
Development of student background knowledge can increase achievement by as much as 33 percent (Marzano, 2000).
Background knowledge and direct teaching of text elements to include headings, subheadings, charts and graphs in elementary school has the greatest impact on student achievement (Sanacore & Palumbo, 2009).
Student engagement increases are directly related to choice and interest – which all transfers to achievement (Caswell & Duke, 1998).
Here are two examples of the CCSS instructional shifts in ELA:
| | |
| --- | --- |
| Literacy: Report Writing – Pre-CCSS | Literacy: Report writing: Post-CCSS |
| Summarize/retell | Persuade, analyze |
| One-source citations | Multiple-source citations |
The 6 ELA Instructional Shifts:
Students read an equal amount of informational as literary: Grades P-5 – 50% informational, 50% literary, Grades 6-8 – 55% informational, 45% literary, Grades 9-12 – 70% informational, 30% literary.
Knowledge in the disciplines must be text-based more than teacher and/or activity-based.
Scaffolding, or the "Staircase of Complexity": teachers allow students to read grade-appropriate text, with support for students who need scaffolding and/or differentiated approaches to instruction.
Text-based answers: students engage in rich conversations about text.
Writing from sources: students use evidence from text to support answers, and cite them appropriately.
Building academic vocabulary: students must be constantly exposed to, and have support for, grade-level vocabulary that increases in complexity (scaffolds) with skill and intention.
The 6 Math Instructional Shifts:
Focus: concepts are the driving focus.
Coherence: learning is carefully scaffolded and paced intentionally across grade-levels
Fluency: speed and accuracy in calculation accompanies memorization and repetition.
Deep understanding: operations facilitate ease and deep understanding before moving on to the next learning module. It is more than the answers, it is the process used in getting there.
Application: students must independently select an appropriate concept for specific applications.
Dual intensity: practice and understand work simultaneously throughout all tasks, allowing students consistent attention with regularity and increased intensity.
The bottom line is this:  shift happens, and as grown-ups, we just need to deal with it.  The best news is: we are.  Out with the old, and in with the new!
Source:  www.engageNY.org
Caswell, L. J., & Duke, N. K. (1998). Non-narrative as a catalyst for literacy development. Language Arts, 75, 108–117.
Duke, N. K. (2000). 3.6 minutes per day: The scarcity of informational texts in first grade. Reading Research Quarterly, 35(2), 202–224.
Marzano, R. J. (2000). A new era of school reform: Going where the research takes us. Aurora, CO: McREL.
National Governors Association Center for Best Practices & Council of Chief State School Officers. (2010). Common Core State Standards for English language arts and literacy in history/social studies, science, and technical subjects, appendix A. Washington, DC: Authors. Retrieved from www.corestandards.org/assets/Appendix_A.pdf
Phillips, V., & Wong, C. (2012). Teaching to the Common Core by DESIGN, not accident. Phi Delta Kappan, 93(7), 31-37.
Reis, S. M., Eckert, R. D., McCoach, D. B., Jacobs, J. K., & Coyne, M. (2008). Using enrichment reading practices to increase reading, fluency, comprehension, and attitudes. Journal of Educational Research, 101, 299–315.
Rideout, V. J., Foehr, U. G., & Roberts, D. F. (2010). Generation M2: Media in the lives of 8- to 18-year-olds. Menlo Park, CA: Kaiser Family Foundation. Retrieved from www.kff.org/entmedia/mh012010pkg.cfm
Sanacore, J., & Palumbo, A. (2009). Understanding the fourth-grade slump: Our point of view. The Educational Forum, 73, 67–74.
This content was used with permission from Course No. 143: Common Core Implementation: From Theory to Strategy, Literacy Solutions Online, Inc.