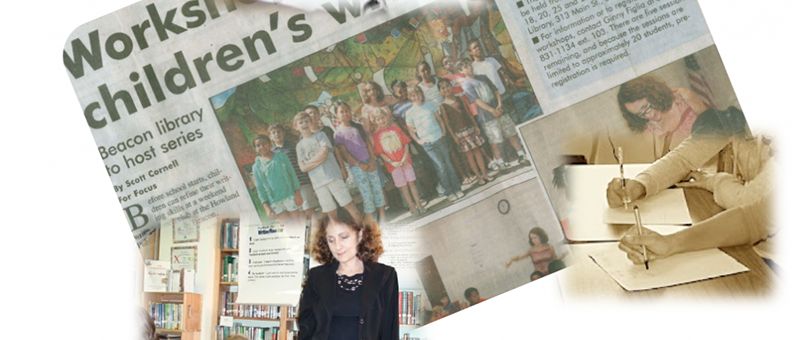 Posted by Susan Ruckdeschel
On 29 December, 2008
0 Comments
peer coaching for adolescent writers, student peer coaching, Student Peer Review, susan ruckdeschel, Teaching and Learning
Getting from Point A to Point B in Student Peer Review
Student peer coaching is a three-step review process students use to edit and work drafts through a writing process in group or in buddy sessions.In some instances, it can be used as a whole class model for introducing some of the concepts.It is a process within a process that we've been told for over two decades to teach (Graves, 1994; Kirby and Liner, 1981, 2004;Robb, 1998; Atwell 1998, Calkins 1983), but haven't really been shown how.As adults, we know how to critique and edit our work.And if we want help with something, we know how to ask for it.We may not know the specific, effective language to get from Point A to Point B, but we do generally know what we want for our writing, what it might lack, and at what point we need to run it by another adult for help or for feedback.Our students on the other hand, know that they are supposed to work with partners as instructed, and to read their work and get feedback.But do they know what to ask for in feedback, such as what they want help or are struggling with?Other than turning in the paper for a grade, do they have any other goals for their drafts?Ask a middle school student if 1 – he/she knows what the goal is for a paper, and 2 – what she/he typically comments on when reviewing a peer's draft.The answers will be:1:No, and 2:Grammar and punctuation, or whatever the teacher told them to comment on.Many students struggle with knowing how to comment on work, and what to say when they do comment.But students will know what to ask for, how to ask for it, and what to respond to each other with if they're taught.
Student peer coaching explicitly teaches students how to set goals, identify issues in their writing, then how to ask for help.It teaches them, through three steps and four student roles, how to listen and communicate effectively through a three-step process using speaking and thinking protocols to get them from Point A to Point B.Students must independently identify their own trouble-spots through a process of goal-setting, issue-identification, response, and adjustment. This process differentiates from conventional peer review through the thinking applied and the language protocols taught explicitly and systematically until it becomes intrinsic.
There are essentially four roles that students take when peer coaching:Writer/Reader, Listener/Responder, Editor, and Manager.Here are the steps within the two primary roles of Writer/Reader and Listener/Responder (Editor and Manager are optional roles):
Writer/Reader:
1. Establish goals, issues, and feedback choice: Here students must decide what they want to accomplish with their writing piece, in addition to whatever the project goals are (they might want to get an "A" or a "B", or it might be something as simple as finishing it).Students must also identify something they want help with, if anything.They can pass on this if they don't know what they are struggling with yet, or aren't struggling with anything and simply want "I heard" feedback.Finally, they need to make a feedback choice from a selection of four:
a. Feedback on goals only
b. Feedback on issues and goals
c. "I heard" feedback only
d. No Feedback option, only available once per draft.
2. Summarize and Read: They must summarize their piece in one minute or less, otherwise they have a tendency to go on longer than is necessary, and "give the ending away."
3. Take what is needed, leave out what is not: At the End of the Day, students must decide what of the feedback they received to use in their piece. Most important, they need to understand that they do not have to use all the feedback given; that only they are responsible for deciding what is useful, and what isn't.This can pose a particular challenge for some students, but will develop an understanding for this with practice.
Listener/Responder:
1. Listen for the goals and issues: Active listening is emphasized here. Supplying them with a checklist of active listening behaviors can go a long way in training them to listen actively and intentionally.
2. Listen for the feedback selection: They'll need to write down what the Writer/Reader asked for in feedback, and then refer to it when it is time to respond. Really important is that they always begin each feedback response with an "I liked" statement.
3. Give feedback to the writer: Students will use appropriate protocols for effective communication such as, "I liked…," or, "I heard…", and avoiding the use of "you" unless it is in the form of a question (avoiding putting anyone on the defensive).
Why these steps and these protocols? I'll share a few lessons from the field:
Students do not always know what they need to make their writing better.Nor do they always know what they want from their audience.When writers become stuck, they need support to become unstuck.Students need clear direction; they need to know what they want for their writing to make it better, and they need feedback from their peers.
Students, however well meaning or not so well meaning, need direction in responding to peers both in and out of the classroom. Not always effective in how they respond, they can lapse easily and quickly into negative discursive environments, or simply say the wrong thing at the wrong time. Students need to be focused and oriented to the reader and his or her stated needs in order to be supportive and offer effective feedback. When they are, they respond despite any extraneous distractions or circumstances.
Students respond to themselves, and to each other, better when they set goals for their writing – goals specific to each writing piece, and to themselves as writers overall. Goal-setting helps students identify and pay attention to areas that need focus, or "trouble-spots." When students establish a criteria of their own, then ask for help in manageable, interpretable chunks, they're far more likely to work with it – because it's become manageable, and something from within them that they've asked for. The key is to get them in touch with these inner thoughts and ideas…through goal-setting. Laura Robb (1998) reminds us that, "Incorporating a student's suggestions in a progress plan honors the child and motivates him or her to make an effort. The bonus is that students often have top notch ideas!" (Ruckdeschel, 2010, p. 11)
Scaffolding the Peer Coaching Process
Scaffolding is about letting go, and for some of us, placing students in peer coaching groups is about all the letting go we can handle if we are used to a highly structured classroom.For others, the routine of student peer coaching isn't as much of a shift, and letting go in this sense will be less daunting.I've found that the most challenging part of scaffolding is knowing when. How do I know when a student is ready to apply a concept or a process independently? How does a student know when to try something with less support, or no support? It is a process of trial and error learning – an important system of learning that teaches to the brain.
The rule of error correction, or trial-and-error learning, is based on two simple truths about the brain: (1) the brain rarely gets it right the first time, and (2) making mistakes is key to developing intelligence. Jensen (2005) p. 52
In other words, if we, like our students, did not call it right the first time in knowing when and how much support to provide them with, we can always step backwards and reclaim a piece of the scaffold, or support, and let go again later. It is a process of trial-and-error.
Rubrics, checklists and other supportive organizers are the scaffolds, or tools, that assist students in transitioning to a self-coaching method they can internalize permanently, and intuitively.When students can organize a thinking process, analyze it to its core, and then make independent decisions about their work, they've become analytical thinkers across-the-board.Careful, timely removal of these supports are key to successful scaffolding.
The rule of thumb I use to gauge readiness for students to begin using the peer coaching process with less oversight, is to allow them an entire course of buddy or group sessions for one writing piece.Setting goals for example, without using the goals list to help think them through the project's goals; establishing an issue in their writing without the formal troubleshooting using checklists, are all strategies for transitioning them to independent, intuitive application of the coaching process.Be prepared to stand behind them as they apply it too – you will be their coach until they can completely let go. Here are some tips for carrying this scaffolding process out:
Allow students to change the order in which they apply the steps in for the Writer/Reader. For example, let them speak about the issue they are having with the piece before articulating their goals. They might even begin summarizing before articulating a goal or issue – let this happen in any order, because as long as they include the goal, issue, feedback type and summary before they read and share their piece aloud, they are applying it independently. Sometimes it flows more naturally out of order, allowing them to think through the process before committing to a goal or feedback type.
Observe the rapidity in which they select their goals, identify a feedback type, and roll in feedback from peers.The quicker they apply this thinking process, the more obvious it will be that they've assimilated the Peer Coaching process, and less likely to need support of the forms.
Ruckdeschel (2010)
Peer coaching transitions students from writing effort that responds to what teachers need to see and to the demands of state learning standards, to what students can become as independent, productive thinkers about what they write, getting them from Point A to Point B in peer review.
Peer Coaching for Adolescent Writers: A Teacher's Handbook by Susan Ruckdeschel, 2010